I've been trying to wrap my head around what spare outputs I have available, and how to make us of them.
I have the preassembled 3.57 PCB MSII unit, tethered to a diyautotune relay board for all of my wiring. The engine is running decent as is, but I have more to do.
I want to make all of the possible spare outputs available so they're ready to wire up to a component when I'm ready, so I think I'll put everything necessary in an external box, and wire through the DB15 connector.
IAC1..2 are already in use for my IAC.
Some of the things I know I'll want to control:
Boost
Electric cooling fans
The maybes:
Water Injection
EGR
EVAP Solenoid
...and whatever else I dream up.
Boost is my immediate concern, so I think I'll just use FIdle for that since it is already set to go and supports up to 1 amp
From my reading here:
http://www.megamanual.com/357/
TACHOUT AccellLED, and WarmupLED it seems I can just solder jumpers from PAD1..3 to the DB15 out PADs, and then build a circuit like so to make use of a large draw device: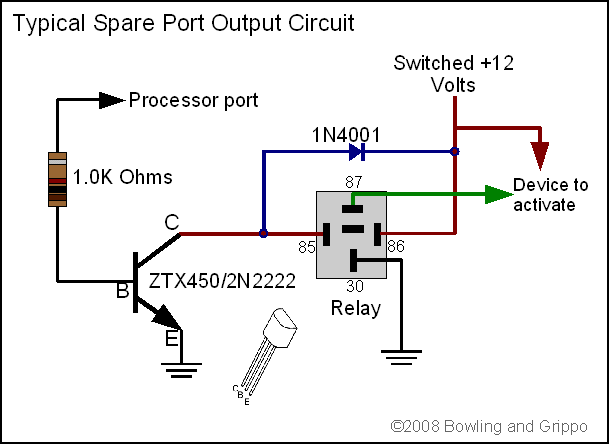 IS it that simple?
Also, can I leave the surface LEDs alone and do this? They don't have to be removed?
It seems I can make use of SPR3 & SPR4 in the same way, but from what I've read on these two are already run to DB37, so you can splice into the cable if you want to use them. I'd rather just re-route them to the DB15 connector, and I'd likely want to do the same with SPR1 & SPR2 in the event I want to use CAN bus one day.