I got my 1965 Econoline pickup running recently using a Ford TFI ignition system providing the RPM signal for a older DIY PNP v1.1 board and ms2extra-release-3.4.2. On this project I'm 'squirting the original '65 Ford 240ci straight six. I'm using a Chevy TBI (throttle body injection) on a custom log manifold. The TFI distributor and ignition module are from an early '90s F150 300 ci six. The TFI distributor was a drop-in for the old 240, with no mods required. The two-barrel TBI unit is from a early 90s 5.0 Chevrolet.
I got a good RPM signal running PIP through the Opto+ input with a 1k ohm, 12v pullup and a stable Spout signal by running it out of Wled (Spark A output pin), also with a 1k ohm,12v pullup. I set Spark Output to "Going Low." I'm using the gray Push Start TFI module, and I set Dwell to Fixed Duty, 50%. Spark mode is Basic Trigger and all other settings were pretty standard. Tach looks stable so far and timing advance is responding with RPM, so I know that MS is controlling the ignition.
The v1.1 DIY PNP is based around a Microsquirt from a few years back. I'm not sure how that system differs from the newer Megasquirt or Microsquirt boards, and have no real idea if the settings that work for me would work for the newer systems.
The throttle body injection system was pretty simple to implement -- except for the Idle air Control valve. I have not got it to work. Still, the truck runs fine without it so far. Of course, the Econoline doesn't have AC or any other high-demand electrical systems that would drag down idle. The TBI has low-z injectors. I burned out the first set and am now running power through 8 ohm resistors (1 each) and treating them as high-z.
Here's a shot of some of the wiring for the system mounted to the driver-side wall of the Econoline engine box: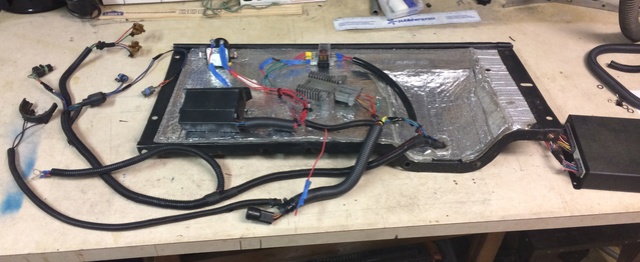 Short video of it running:
https://youtu.be/vY1MaDr_gwk
JamesL