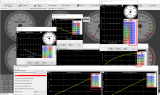 See picture.
I can't read some tables in TS itself, and have to copy them into Excel or something like it.
I can resize BaroCorrection, and by reducing the height of its window the font rescales and can be read. This doesn't work for other windows like InjectorSmallPulsewidths or TimeBasedAccelEnrichment.
TS 3.0.18, MS3X 1.5, Windows 10 (current), 1920x1080. No rescaling activated in Windows itself. Default fontSize in TS.
Fresh TunerStudioAppDebug:
https://dl.dropboxusercontent.com/u/106 ... pDebug.txt